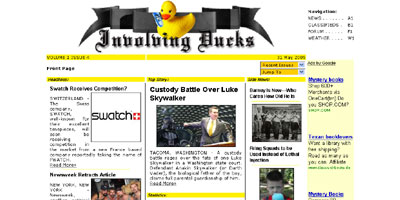 Involving Ducks
www.involvingducks.com - Retired
America's Most Involved News Network. Involving Ducks is a hilarious satirical newspaper publication founded in May of 2005 in Houston, Texas.
About once every week a new exciting issue is released.
This was an interesting satirical journalism project that started as a thought of a student high school newspaper that grew into worldwide issues.
Features Used:
Advertisement Management
Artwork
Content Management System
Custom Message Board (phpBB)
Email Newsletter
Flash
Online Store
PHP/MySQL Integration
Streaming Audio